Paul Tonelli
VP, Creative Director

Paul has 25+ years of creative direction, strategy and executional experience, having led creative development for many national brands. His reputation has been firmly established for building marketing campaigns that shine across multiple channels. With a focus on relevance, simplicity and stopping power, Paul has won many awards for creative excellence in print, broadcast and digital. Educated in advertising and design from the School of Visual Arts in New York City, Paul went on to lead creative campaigns for Ally Bank, American Express, Goodyear Tire, General Motors, including GMC, Cadillac and Buick and GMAC, as well as Harvard Pilgrim Health Care and other known brands.
Chris Tieri
Lead Brand Strategist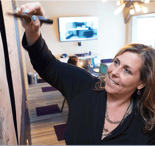 With 25 years of experience and a passion for creative problem solving, our Lead Brand Strategist, Chris Tieri helps businesses and their leaders transform their brands from ordinary to extraordinary. As the only Certified Brand Strategist in New England, Chris brings clarity to clients' visions for the future, uncovers their unique claims of distinction, and builds breakthrough brands that thrive in today's competitive and ever-changing business universe. Her unique approach develops consensus amongst leadership and effectively carves out customized brand positioning for clients.